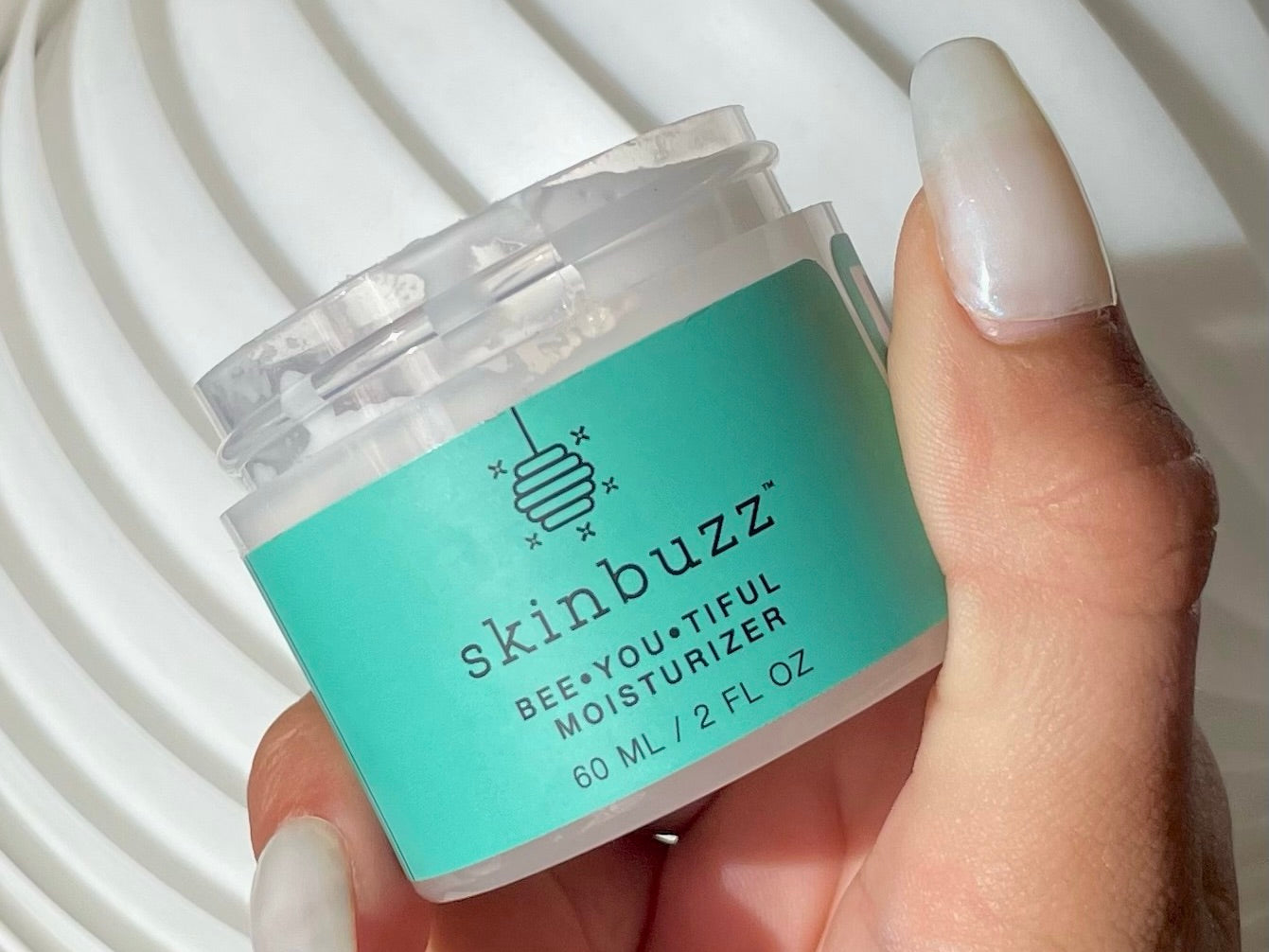 Mastering your summer skincare routine is a quest made effortless with Skinbuzz's line of organic products. Today, we highlight the critical role of keeping your skin hydrated and introduce our star player for the summer season: Bee•You•Tiful Moisturizer.
Why is an Organic Moisturizer Essential in Summer Skincare?
Summertime brings with it increased heat, humidity, and sun exposure – factors that can deplete your skin's natural moisture and vitality. This is where an organic, high-quality moisturizer like Bee•You•Tiful Moisturizer steps in, forming a cornerstone for a thriving summer skincare routine. Here's why: 
Skin Hydration: Bee•You•Tiful Moisturizer replenishes the moisture lost by your skin throughout the day, nurturing a supple, plump, and radiant complexion.
Skin Nourishment: Our moisturizer is infused with a blend of organic ingredients, including Aloe Barbadensis Leaf Juice, Avocado Oil, Jojoba Seed Oil, Grape Seed Oil, Shea Butter, and Vitamin E. These provide crucial nutrients that rejuvenate your skin.
Skin Barrier Protection: Bee•You•Tiful Moisturizer fortifies your skin's natural barrier against environmental stressors like pollution and heat. Beeswax, one of the key organic ingredients, locks in moisture and provides a protective shield for the skin, making our moisturizer a summer skincare essential.
Beeswax: The Powerhouse Ingredient in Bee•You•Tiful Moisturizer
Bee•You•Tiful Moisturizer is not just a moisturizer; it's an expertly crafted blend of organic ingredients that cater to your summer skincare needs. Beeswax, a natural and sustainable substance, plays a central role:
Deep Hydration: Our moisturizer delivers profound hydration, crucial for battling summer's challenges.
Nourishment and Protection: Beeswax hydrates and protects the skin. By forming a protective barrier on the skin's surface, it helps lock in moisture and safeguard the skin from environmental damage.
Strengthened Skin Barrier: The synergistic action of Beeswax and other organic ingredients in Bee•You•Tiful Moisturizer enhances your skin's natural barrier, providing an extra layer of defense against the harsh summer environment.
Keep in mind, while Bee•You•Tiful Moisturizer is excellent at maintaining skin health, it's not a sunscreen. For full sun protection, we recommend pairing it with Skinbuzz Bee•Safe Sunscreen. This organic mineral sunscreen is formulated with Titanium Dioxide, Zinc Oxide, and Royal Jelly - a bee-derived ingredient acclaimed for its rejuvenating properties. Combined with nourishing organic ingredients like Aloe Barbadensis Leaf Juice, Avocado Oil, Jojoba Seed Oil, and Shea Butter, Skinbuzz Bee•Safe Sunscreen is a summer skincare must-have, offering both sun protection and skin hydration. I could go on and on about how great this sunscreen is. See for yourself here!
Conclusion
Integrating Bee•You•Tiful Moisturizer into your summer skincare routine marks a significant step towards healthier, radiant skin. Embrace the summer with skin that's happy, hydrated, and Bee•You•Tiful. Choose organic, choose Skinbuzz.
As always I'm here to help. Reach out if you have any questions about Skinbuzz here.
Shop for Bee•You•Tiful Moisturizer here